Chapter 9. Münchhausen Syndrome (India, part IV).
If you come to India with your bike you will see what happens. We had been warned that there would be attraction where we passed, but we never imagined such many people overtaking roads when we stopped to drink some water when there was 40 degrees ambient temperature.
But let's go back where we were: the arrival on train to Mumbai, a city that should not be called that. It should be called "Chaos". Being in the center and out to the street is the most stressful things we have experienced in our lives. There is noise, pollution, hundreds of people clustered in a few square meters, dead famine cows on the asphalt. Perhaps for this reason we did not see many tourists. It really is exhausting. Just by going out you end powerless.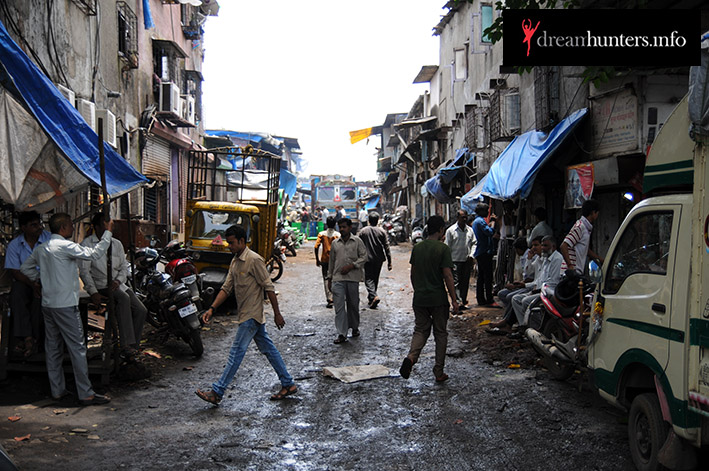 The first day we stayed at a downtown hotel to locate and recover from such a long trip. Also, we were near one of the companies that we had to visit to collect the bike from the pier, which we manage the day of arrival. We returned to the hotel and went out only to buy food and drink. For a little while we walked on the street, but the impact your mind gets was so huge that we had to go back to the hotel to gather the emotions in our mind. A country with a religion with over 2,000 gods is impossible to pass unnoticed for your mind.
The next morning we decided to return to the iHotel. A suburban hotel that we know from our first visit and, more or less, it gives us everything we needed. As it was Friday, we have to wait until Monday to continue all efforts. Although we wanted to see Richard, we must have patience. What's good is worth waiting for, and Richard is very good.
Monday was messy. In the morning we visited the second office. We took a taxi with a driver who did not hear anything and kept spitting snuff out the window. It took an hour and a half to get us to the destination. We went from one part of the pier to another until suddenly we found ourselves sitting on a table with a person that seemed one of the heads of the harbor. He seemed a good man. Very polite and with fluent English he called a contact of his who thought could help us. We met him the next morning at 10. That was good news. The bad news was that they told us that on Thursday began a four-day party to celebrate Gandhi's birthday. We had two days to get the motorbike from the port. Otherwise, we would have to wait until the coming Tuesday, with everything that entails (hotels, energy, enthusiasm … We were very tired from Bombay. Did we tell you?).
On Tuesday at 10am we returned to the port waiting for someone who we had not seen before. 11am and there was nobody. We call him. We were told he would come at 11.30. 12pm and no one. We call again. We were told he would come at 12.30. 13h and there was nobody. We call. We are told to come at 13.30h, and he said we do not know whether to believe him. We hung. 13.30 and no one. We called and told he wouldcome at 14pm. And he did not. We desperately returned to the office of the apparent leader of the harbor and he helped us calling another contact, he agreed to meet at 11am the next morning. If we had not picked the bike up that Wednesday, we should wait for almost a week, since the holidays began. Although we had to wait about 8 hours on a dirty couch full of mites, finally, at the end of the day, we finally saw the bike, which was covered with a dirty sack to not distract workers. And at night, we took it out to head to the hotel.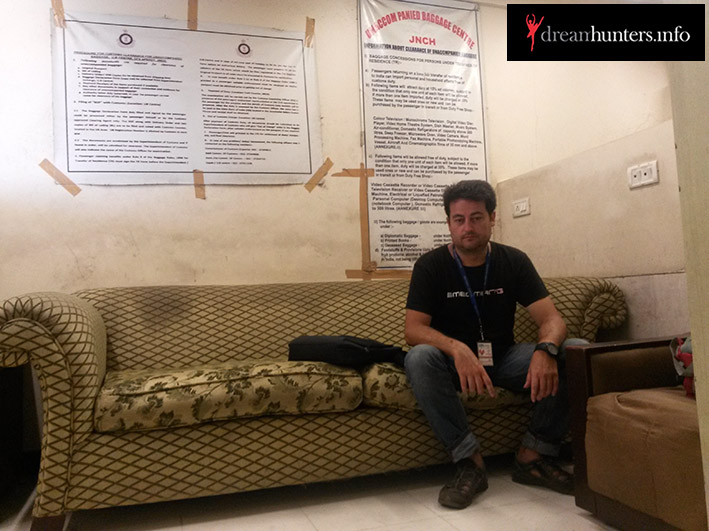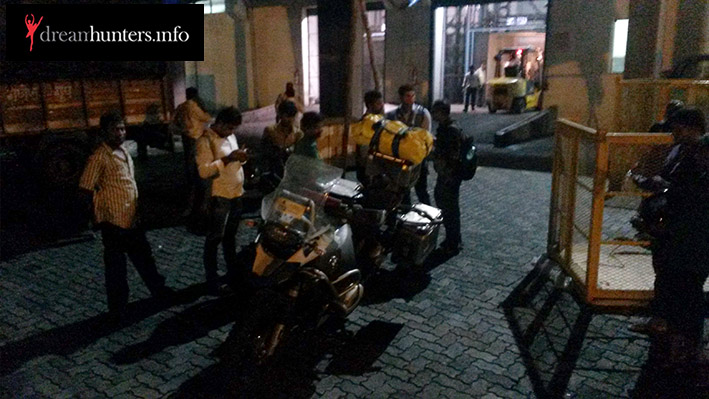 Let me explain you a tip: if you have to deal with Indians for some work or business, do not ever give them haste. Not only is useless, but it is even worse. They will collapse, risking the job and business will go wrong. You have to go to its pace. They will not adapt to you. Or you do it, or you will lose.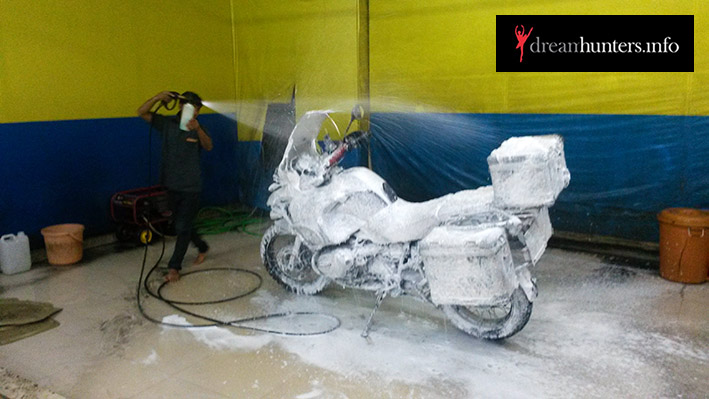 The next morning we took the opportunity to clean Richard thoroughly and balance the tire air. We had over a thousand miles to get to Agra and for sure it would not be easy. Personally I was not aware that I would live the most dangerous and difficult days that one can live on a highway, and we would see a lot of accidents, including the possible death of a motorcyclist hit by a truck.
Finally the day came out. We left the hotel early in the morning to have the maximum hours of sunlight. And we were surprised. We were so excited to be back with Richard to drive 600 miles without much trouble. We hoped it would be more complicated, but not. Everything was fine. The first day on the Indian roads was a blast. We wonder if the second day would be the same. Still not imagine what would came over us.
We spent that night in a hotel in Indore, in a more accurate room. There are now sensing the power of the bike. We parked at the entrance of the hotel,it was the attraction of the neighborhood. All came to touch it, climbing and taking pictures. At first we had a bit of fear as there were mounted, but it was impossible to stop them. They did what they wanted. When I lie in bed I saw the guy who helped us carrying our bags to the room and asked us to add him to his Facebook. He posted on his profile a picture of him on the bike.
We went out for dinner at the same hotel when a guy approached me and gave me a little talk. Suddenly, he pulled out his phone from his pocket, began to talk to someone, paused, and asked me if I could chat to his friend, he wanted to talk. And so I found myself talking to someone who I did not know, about the motorcycles in an Indian English that I could hardly understand.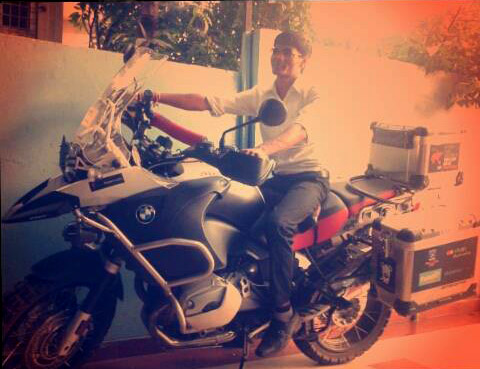 The next morning we got up thinking that if everything was the same, we could reach Agra. We rode the bike and in a few miles and we sense that things would be harder than the day before. We met all kinds of animals: goats, cows, sheep, camels, dogs, cats, and even donkeys painted with dots of many colors. The roads looked like a zoo. And while we delight any animal that came from everywhere, we were dodging cars, motorcycles, trucks, buses and other vehicles difficult to classify overtaking you everywhere. And all without taking your eyes off the road with the asphalt in poor condition and with craters so deep that if you walk in and you fall into one not even a ladder truck would take you out of there. Not forgetting the kamikazes.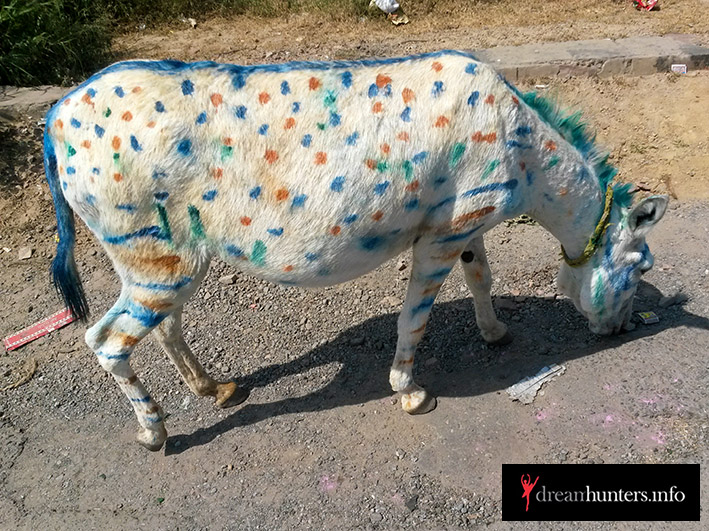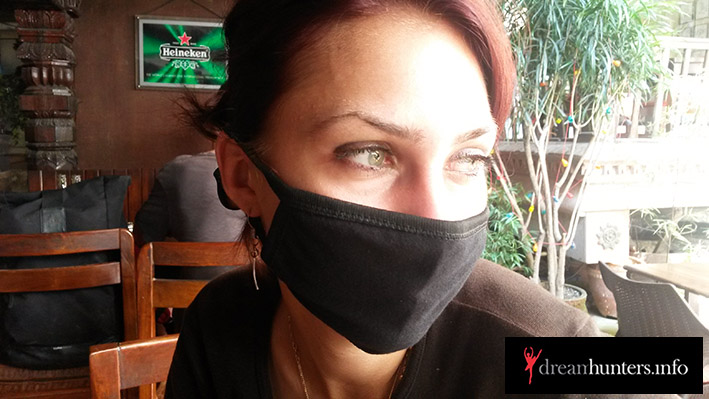 And every day driving in the middle of the day, 38 degrees ambient temperature, when we decided to stop for a moment to shelter us in the shadow of a tree for 5 minutes to drink some hot water for three minutes a perimeter of 4 feet from the road is already flooded with people, journalists included. We just missed the mayor of the nearest town. At first amused, but then we begin to understand the famous people harassed by the tabloid press.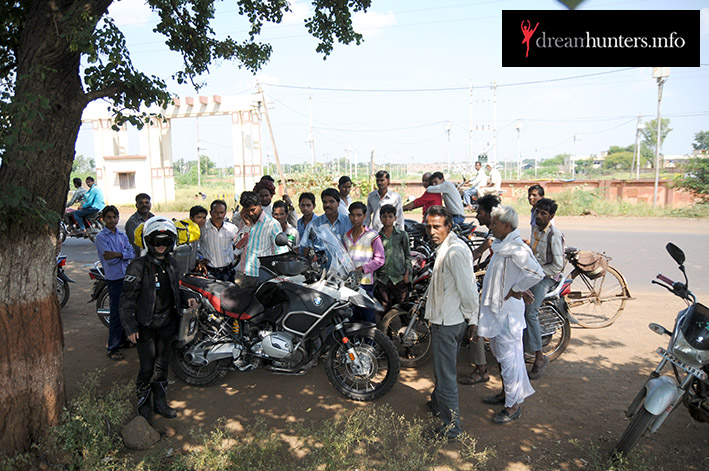 Among those crowds I remembered an article I read in the newspaper years ago. A guy visited a hospital more than 800 times in a year. Doctors always told him he was fine. But they were wrong. It turns out that the poor man was suffering "Munchausen Syndrome", a typical disease of people with low self esteem who only pretend to be the center of attention for a while. So I ended up thinking that India would be his ideal country. If you want to be the center of attention with a good chute for self esteem, come here with your own bike. In this country you will be famous and will be admired as Brad Pitt.
And so, we crossed, we traveled about 1,500 kilometers to the border of Nepal. We passed through Agra, where we stopped a few days to visit the Taj Mahal without paying admission, as thanks to a holiday festivity that day (other), and we spent a whole day. The temple deserved and the view is never enough. Legend said that once the temple was built, the Emperor ordered to cut off the hands of all workers so they could not build another. Too much cruelty to one of the most popular love story gifts.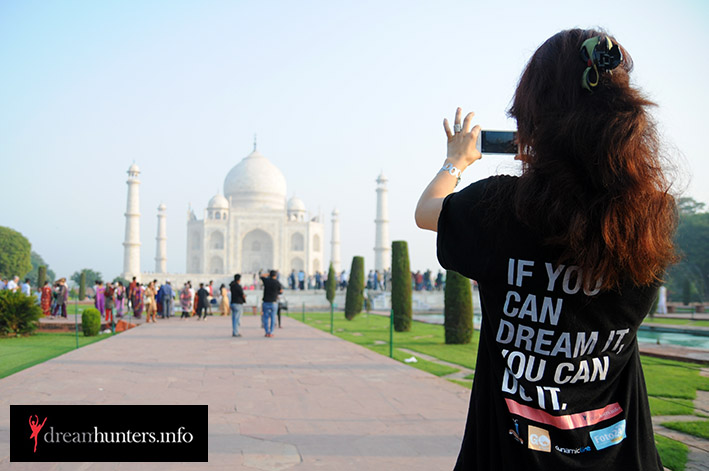 * Dreaming is free. Make them reality, perhaps not. This piece of dream has come true thanks to APIC – Asia Pacific International College, Go Study Australia,Foto24 and Dynamic Line, thanks to our partners, and most of all thanks to you. And do not forget: If you can dream it, you can do it.
CURIOSITY.
What you smell while you sleep affects the content of your dreams. A conclusion was reached by German scientists in a study presented at the American Academy of Otolaryngology. Comparing the effects of roses smell and breathe the stench of rotten eggs while we sleep, the researchers found that the emotional tone of dreams is positive in the first case and negative when the odor is unpleasant.
DEDICATION.
We continue with the family. This chronicle is dedicated to the Miha and Gigi, Lore's brother and sister, and our nieces, Alexia and Antonia, and Eric and Jana. The family is central to a healthy lifestyle. Beside we are as healthy as two kids in their 15ies.