Chapter 7. We do need our bike (India, part II).
If stepping on crap means good luck, at this stage of dream I should be the luckiest man on the planet. And not just because I crushed more than one, but also because I have walked in all kinds of: cow, dog, elephant, human and I do not even know what other animal.
But unfortunately this is not the case. About a month ago we got in Colva Beach, a village in Goa, the smallest state of India famous for the visit of thousands of hippies from all over the world. And I say that we are unlucky because we do not have the bike yet. We were told it would take about 25 days, and it will be about 40. And last but not least is monsoon season and it rains almost every day. The first days shone bright sunshine, but I began to suspect that something was not going well when taking a chocolate milkshake on a terrace of the village I saw a native with an umbrella. With the warm sun tanning me, I ended up not understanding anything. A month after being here, now fits me perfectly. Here you can get up in the morning under a sweeping sun, and in a minute you can catch a perfect storm that can blow your umbrella.
As in the main thing in any travel is the journey, we'd try to enjoy every day to the fullest under these circumstances and also take the opportunity to rest, eat well and try to charge your batteries. We expect a trip to the port of Mumbai that it will be sure stressful, and a route through the countryside full of surprises ahead.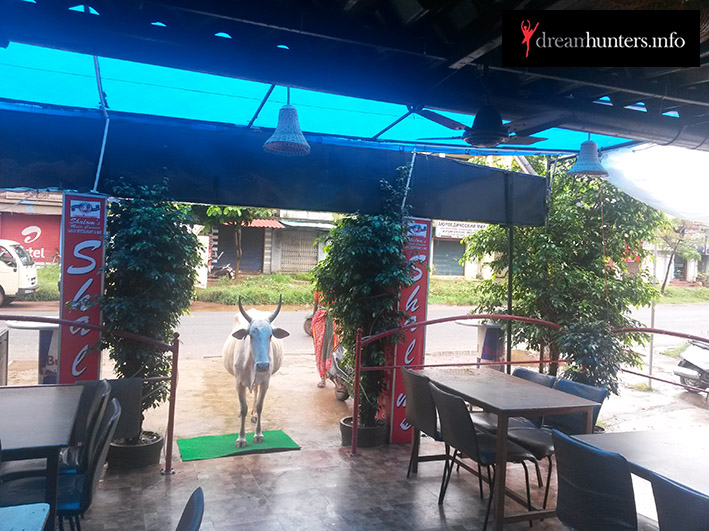 By this time we have been in a hotel that gives us everything we need now: chill, good price, good company, cleanliness, good food and even a pool. In addition, we had problems with the water and we were moved to other room. As it is low season and as we know, we were sent to one of the hotel suites: We even have HBO on our TV, a channel in which full of movies.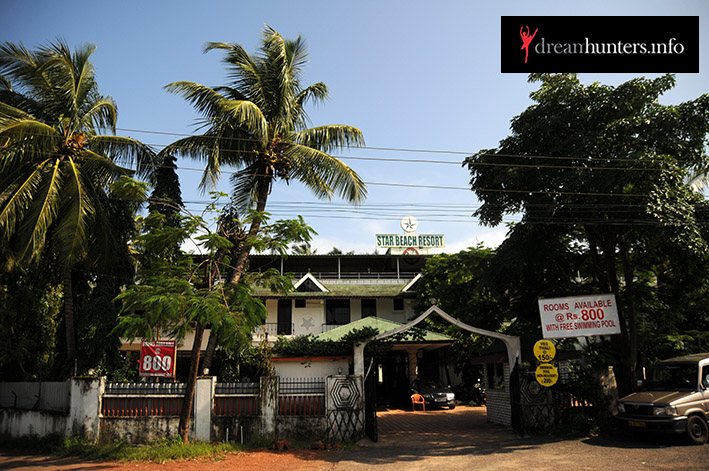 We also want to read a bit, for example the book titled "Sifarnodo" from my good friend Juande Sáez Clavijo, a poet who works in Dynamic Line here's a sample that fits perfectly with the spirit of our project:
"I need my clothes hanged out, I need a box of memories, I need a locker full of life and dreams, I need a flowerpot to bury the fears, I need a corner in the bed to look at north,I really need that".
During these days we have done a bit of everything, starting with visiting the hairdresser. Visiting the Hair cutting saloon Sai was quite an experience. As long as you walk into a place, you only have one choice: let yourself go. Thus, the hairdresser showed off its skills, he used a rusty scissors that cut made a noise. He also used a knife to cut the pins and the back of the neck. And so on to the end of the session, when he left all his tools on the counter and started hitting my head with his hands as if playing some congas.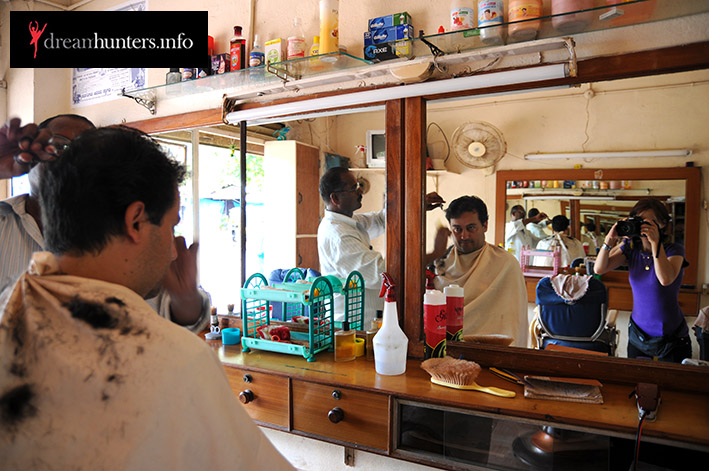 In a week so far all the people in town know us. It is one street where there are tourist shops on both sides. Every day we greeted by the boy in the souvenir shop, also by the womanof the clothing store, by a couple of mobile store, by the taxi driver as well, by rickshaw boys… There were no other tourists; I guess we were the main attention for theme. And thanks to them we were able to intuit how they perceive women in this country. You may think that they all are very effusive, liberal and modern. For this reason, there were many short dialogues such as this taxi driver in his 50s with Lore just as we passed by quietly walking beside him:
Taxi driver: Hi! Do you want a taxi?
Lore: No, thanks.
Taxi driver: I love you. See you later.
More than one person approached Lore just for asking "Can we become friends?" Or to jump pictures with us, as if we were Hollywood stars.
As is done in all parts of India, at the end of each day we went to see the famous sunsets, which are a ritual. When the sun decides to hide awayis when Colva Beach is where it stops for a moment and enjoys a magical moment that you can live every evening. And it never tires. You always want more.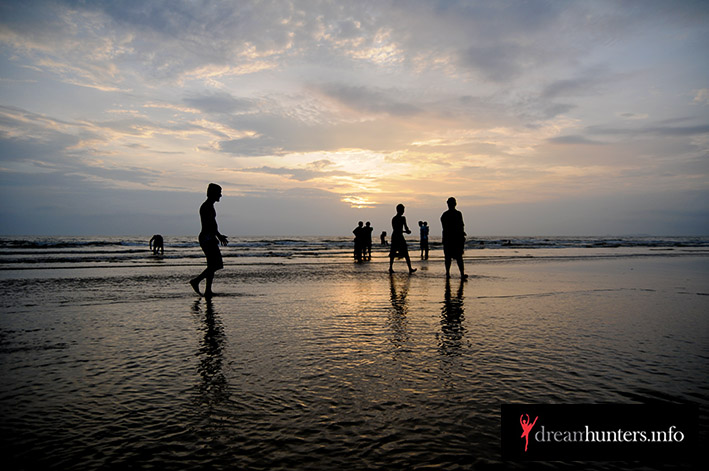 By looking forward to getting the bike, we rented one for two days. The first we went to visit Panjim, Goa's capital. During the journey of 40 kilometers, we had to stop intermittently along the way because it was raining, we had a dark episode with a police officer. Here you can see bikes loaded up to five people, one carrying a nine-foot ladder, and some even used to load the pigs. But no, the cop stopped us and told us he was going to find us because we wore no helmet. Surprised, I asked why they kept the other bikes as he pointed to the large number of motorists who passed by our side, all without helmet.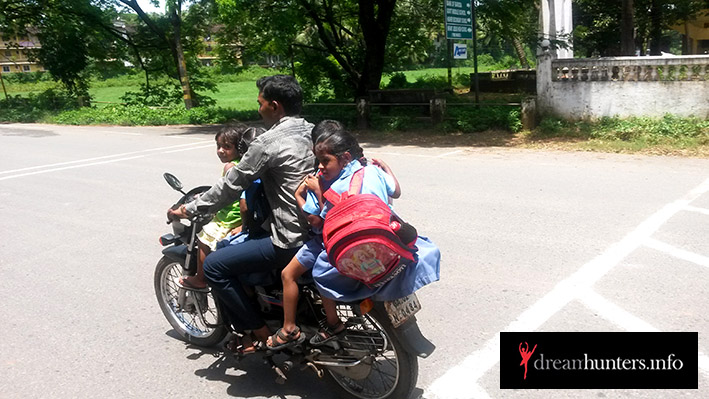 The cop, saying nothing, snatched my driver's license to his mailbox on the side of the road and filled a fine amounting to 100 rupees ($ 1.20). While writing it, I asked him where I had to pay, and he told me right there. It was then when, I commend him, that the money was for him. Or better said, I told him directly: "Very nice, very nice. Now you can keep the money.". In the event, that cop got up, went crazy and started yelling tome "Do not tell me thisss" over and over again. He took the 100 rupees ticket from my hand and in a rush he had hidden it in the back pocket of his pants. Seeing him nervous (say truths offend), we opted to climb fast on the bike and run off.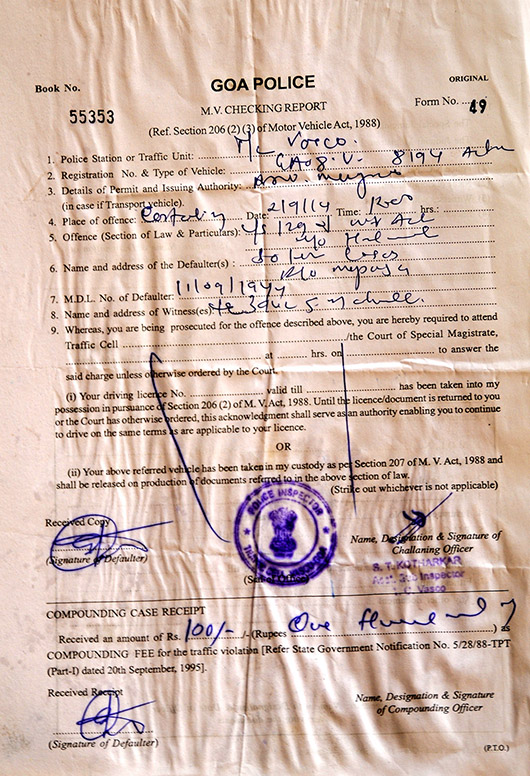 A few days later we returned to renting the same bike. During the trip, we crossed another cop that came out of nowhere and was placed in the middle of the road commanding height. I guess as a few days ago, I saw a giant wad of rupees riding a bike. And there's nothing like the experience to know how to react, I decided to speed up that red movilette to do something I had never done before in my life: hit and run. And if you've never done you cannot imagine the sense of freedom that one has to do, especially if one goes behind you and your partner is laughing.
Palolem is a coastal city and like all places, very nice and recommended. We spent the day in front the sea eating quietly and enjoying the landscape poem and afternoon back to Colva Beach, the village of a street with the hotel that hosted kindly for quite some time.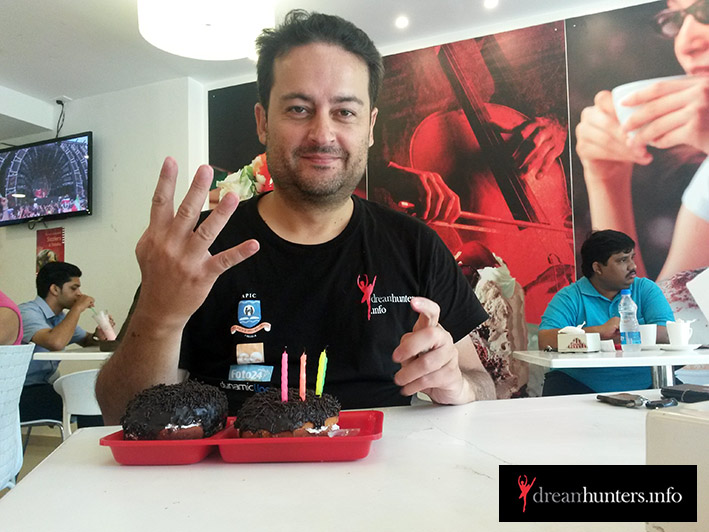 During this period I also celebrated my 40th birthday. And we did pulling the boat out: We rented another bike for 2 euros (quite new, the owner told us he did not have insurance because they did not need it) and we visited again Panjim to go to the best Goa's pastry to eat two artisanal chocolate donuts with cream. In the evening I had a life experience gift Lore set me. The hotel clerk also proved physiotherapist and made me an Indian oil massage I will never forget in my life. I did get into a tiny house (when I say "tiny" can think of other size), and I saw a stretcher full of petals and I heard music playing machine at low volume, especially in dim light, almost absent. Then I took off my shirt and put on my swimsuit. "Take off, take off," I repeated. And that was how I was naked in front an Indian. After about 20 minutes I turned and I went over the whole front. He put me oil on my ears, eyelids and even stopped for a minute in my throat gently stroking.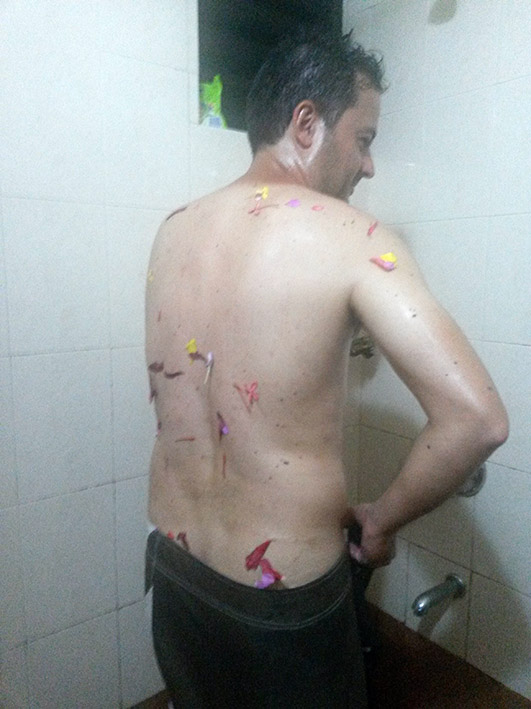 And so on until the massage was over, I almost break out laughing a couple of times to see me in that situation, very similar to one that I had in Barcelona with my friend Javi, Dani and Manu.
That's when the clerk finished with one of his many roles in the Resort and roused me. I put on my bathing suit and went to the shower trying not to slip quickly.
And so the days passed with funny experiences accompanied by a lot of peace and tranquility. But today we are a bit tired. We look forward to getting Richard again. We look forward to continuing shaping our dream. Driving through the countryside of India has to be spectacular. But that is another story that has not yet come. And it's rude to talk to the basin head, leave it here. If you want to, read it in the next chapter. You are invited. And this is not one of those invitations where you are then you should pay for something. It's completely free.
* Dreaming is free. Make them reality, perhaps not. This piece of dream has come true thanks to APIC – Asia Pacific International College, Go Study Australia,Foto24 and Dynamic Line, thanks to our partners, and most of all thanks to you. And do not forget: If you can dream it, you can do it.
CURIOSITY.
Dreaming erases pain. When we dream, specifically REM sleep, stress chemicals generating longer occur and the brain processes emotional experiences of the day while softening the negative or painful memories, as a neuroscientist recently concluded study University of California at Berkeley.
DEDICATION.
This is for you:Patas and Irene, David Guimerà, Andrada and Claudiu, my ex-partners ArnauBirba and Eudal Rota, my friends in Camprodon XeviMoret and Jesus Vilarrassa, Joan Casademont and David García, MontseCasamitjana and Lidia Raurellfrom my fun stage in La Molina. A pinch of salt is important in life. Many of the memories I have are the point thanks to yours.