Chapter 4. The smell of freedom does not sell (Croatia, Montenegro and Bosnia-Herzegovina).
We stink. After more than 8 hours on the motorbike in the middle of August riding under the scorching sun, our bodies do not invite just to have a socially acceptable smell. 
From Bar, a town in Montenegro, we have got in Mostar, one of Bosnia-Herzegovina's famous city for its bridge over the Neretvariver, a national monument that is also Human Heritage but was destroyed during the war in the Balkans and rebuild a few years later. It is a beautiful place with a historic center designed for tourists with thousand souvenir shops in its streets. We do not know if it's the bad weather we've had all day, but since we crossed the border we have a sense of sadness. We do not talk a lot to each other. The country roads are almost deserted, full of cemeteries, and when there are none, you find small marble mausoleums in ditches showing a photo of someone (usually young) engraved on the stone, full of fresh flowers that someone just placed there. If you add it all, the setting invites you to imagine what happened in this country a few years ago.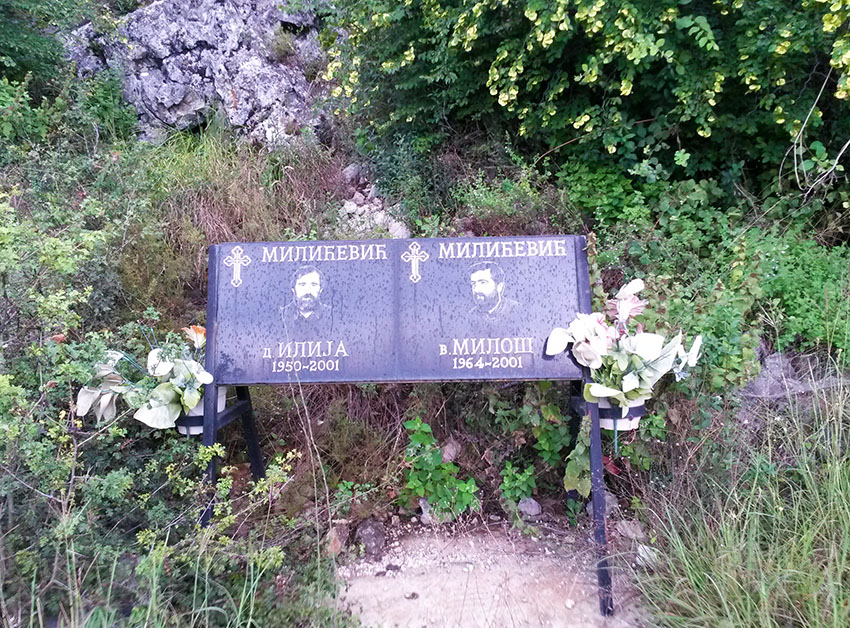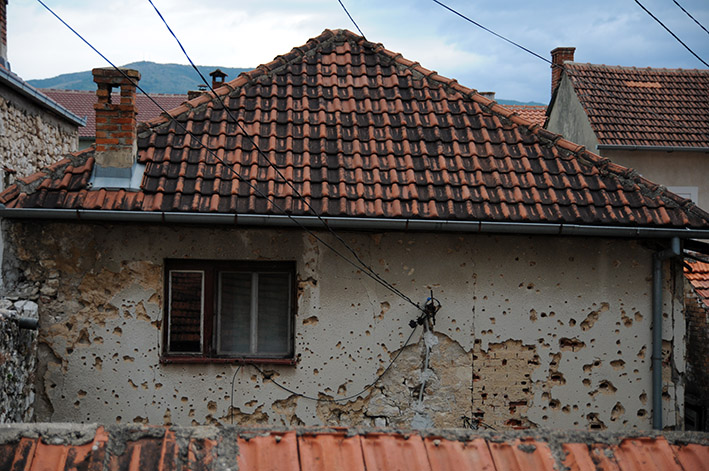 We started visiting Croatia at the national park Plitvice, a beauty of nature formed by lakes and waterfalls that one cannot miss. But I will not describe the landscape. I'm not a poet. It will be better if you visit it if you have the chance.
But the worst part of the trip so far happened the next morning. On the way to Senj, Richard got a flat tire. Apart from raining, the way downhill, the track was wet and it was smooth as ice, the tire was already worn down, the high rear weight, and also for the first time in my life I was listening to music (in this Jason Mraz was the case, it is more relaxing than a massage from one of my good friend Sergio Escribano), what happened had to happen.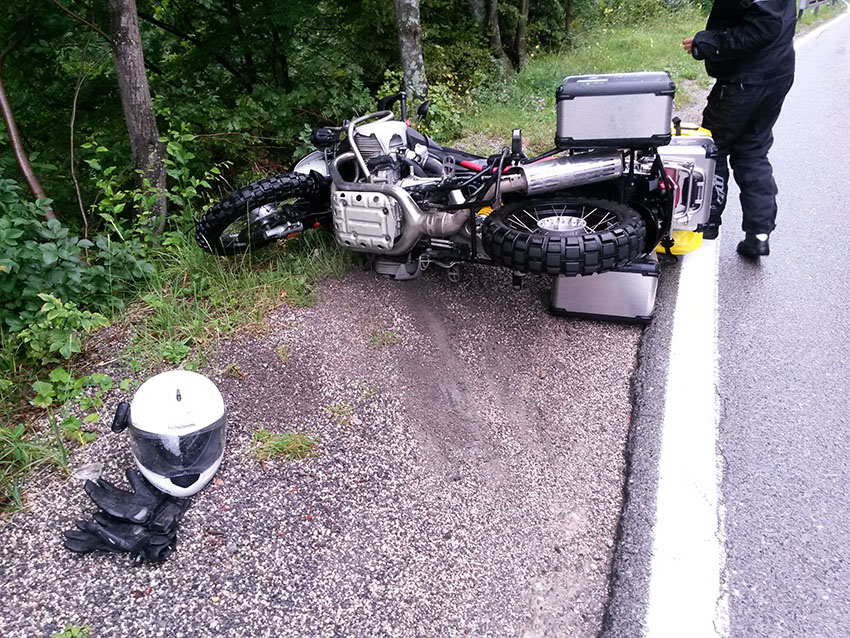 But the important thing is not to stop doing anything for fear, we got up, we picked Richard up from the ground, it was not as difficult as we imagined, and we continued our way to Senj, which fortunately was already near.
In Senjwe we rested a couple of days. Besides nice and quiet, it was good news to see that prices were starting to decline, especially for the hotel room. As you progress along the way, the hotel chains and corporations no longer possess a monopoly and you can find many private homes that rent their rooms at a great price.
But the best was yet to come. For years I had dreams of driving on the E65, one of the best roads in Europe to travel bymotorbike. For hours and hour you ride cliffs cutting the Adriatic Sea with a magnificent view.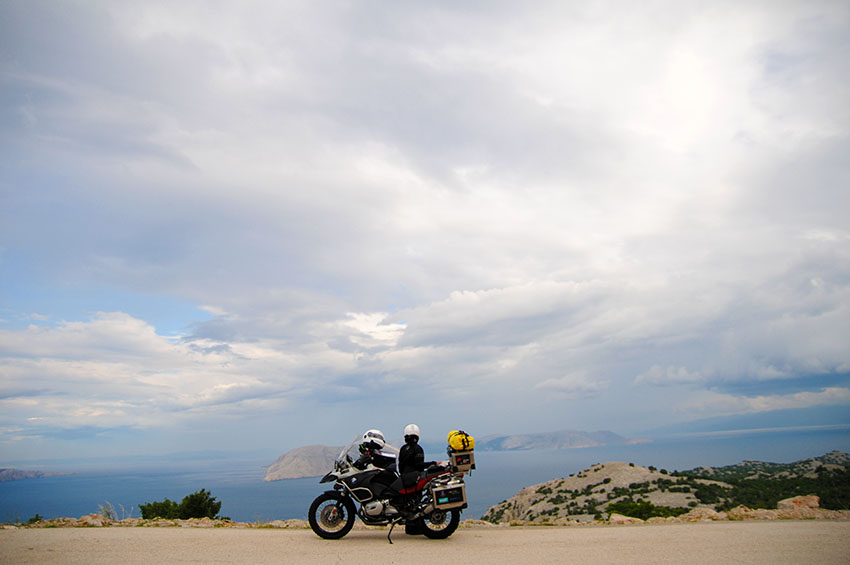 Split, it's a beautiful city with a historic center that invites you to have an ice cream while you are wondering the fabulous landscape. We visited BMW's home as we were in a big city, where I fixed the small scars left by the fall on Richard's body. To avoid having to wait for parts, the mechanic suggested offering us the parts of his own bike. He will ride without these parts until he gets the new one, two weeks time he will ride without blinking and a small metal dome grip. So if you're reading, thanks heaps!
Fucking mosquito!
In split we had to solve a bit of a misunderstanding with the Chronicles 2, in which we designed an obituary to express the idea of Lore and I dying and being reborn again due to this great adventure. The thing is that my mother in law does not understand any of the official languages of this blog, so she just saw the obituaries and imagine what she thought. On arrival we called and explain, but she had cried already that whole morning.
Two days later, we continued our way down Highway 8 towards Dubrovnik, another dream road for motorbike lovers. If we already loved Split, Dubrovnik was also great. Entering the old town of the medieval city and get lost in its rocky streets is the best thing you can do to get away from it.
And three days later, when we thought we had already visited what we thought it was the very best of Europe, we entered Montenegro a country completely unknown to us. And it became, unwittingly, the best of the trip so far, both for its roads as its landscape. We visited Kotor, which is mandatory stop and Budva, a coastal town perfect for spending a good holiday. We were three days in Bar, another coastal city in which it is better to rest and do what I like sometimes: nothing. Or said in another way: beach, pool, beer chill outs, sleeping and eating.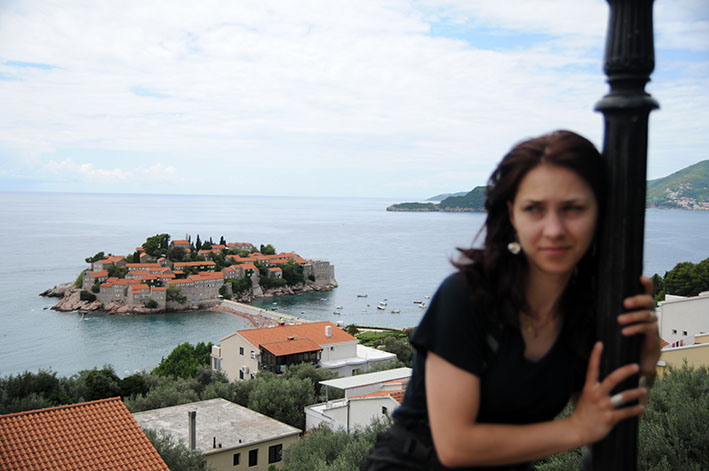 And it was in Bar where I reminded of that line from John Lennon who said "Life is what happens while you're busy making other plans." We have nothing better than this plan. Whatever we want it's going to happen, without insisting on other things. And we'll leave it here. Writing this chronicle is costing me because of a fly all over me. Could it be that she does not like the smell of freedom?
* Dreaming is free. Make them reality, perhaps not. This piece of dream has come true thanks to APIC – Asia Pacific International College, Go Study Australia, foto24and Dynamic Line, thanks to our partners, and most of all thanks to you. And do not forget: If you can dream it, you can do it.
CURIOSITY:
The blind people dream. Thinking that blind people do not dream or dream "in black" is a common mistake. Both say-that congenitally blind, by birth who are blind as a result of an illness or accident dream. Although they came into the world without the visual capacity developed cannot see images in their dreams, they do engage in these other senses: hearing, touch and smell. Meanwhile, people who lost their sight over life itself resort to images in their dreams.
DEDICATION:
This post is dedicated to some friends without whom we could not now be following this adventure. They are Zoo Studio's Vic friends, a group of good people that I have known for years and deserve the best. They are great professionals with nothing to envy from the big companies. A huge hug to everyone.
CONTACT.
Apartments Mato Barisic.
Vukavarska 1/A.
20207 Mlini.
Dubrovnik.
Croatia.
Tel. +385/0/20/ 486-445.