Chapter 3. The falling in love butterfly (France, Italy and Slovenia).
While the best for a croissant is being spread with butter, the best for a butterfly is not to cross with Richard Parker.
When they do, Richard and I try to avoid them constantly, even though sometimes it is impossible. It is them or us. Any move of my handlebar could get us in a terrible situation. If something happens to us, we know our family would cry, and we don`t want to risk our life. If butterflies die, their families will never know.
We cross France in rush, in which we avoid many of them, although some of them crashed against our motorcycle. We should hurry up because in two days we have to get in Torino, the place where Lorena's mother works.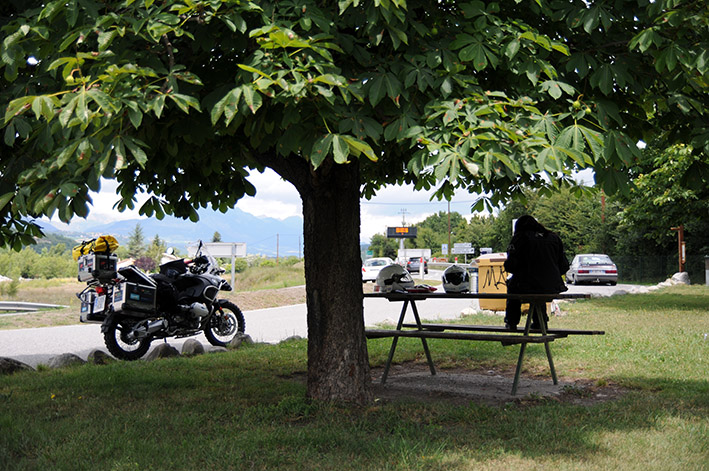 During our days in France, the way motorists treated each other astonished me. All say hello, I mean it, at least 95 over 100 do. In Carla Bruni's country even when you park your motorbike, every single motorist says hello with euphoria. Even Harley's motorists do, something I thought it was impossible.
We spent the first night in a F1 hotel near Nines, a good hotel with a suitable price per night. It was just touching our bed and we were already asleep. We have been hectic during the last few days and we really deserved that rest.
On the morning we continued on our way to Italy, until we got to a village near Torino, the town where Constanza Lorena's mum works. After several moths apart they met again and it was so emotional, the tears fell down without restraints.
The family Constanza works with invited us to join their dinner: prosciutto, bread and tomato, meat and wine. It was probably the last time in months I tasted that delicious meal and I will miss for sure. In fact we did not know what was about to happen the following days in Slovenia.
Talking about food, I must admit the last months I have been eating as much as I could. It has been like filling up the tank of my motorcycle. I do know that I will get skinny in India, so I will need to use my reserves. Lore is different, she is already skinny, so I don't know what is going to happen with her. If she gets skinnier she wont be needing the "invisibleness cape" that, one friend of her is researching in a laboratory in Barcelona. Big hug Anna and all the best!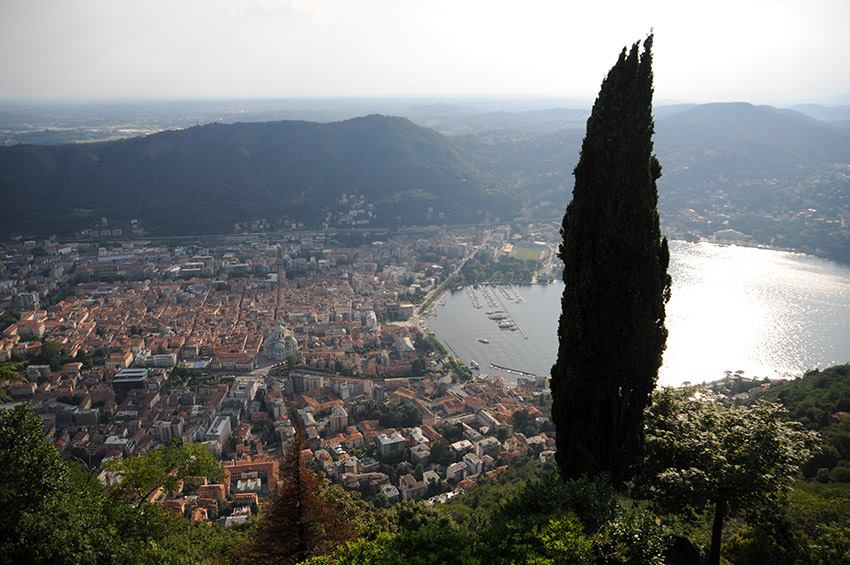 For the following four days we got a great plan, Lorena's mum had hired an apartment in Como city center. A dream place in the north of Italy with stunning views. Lorena and her mother went from Torino together by train while Richard and I got there on through the road. Unpacking our stuff two "caravinieris" suggested me to move the motorbike as soon as possible, otherwise I would be fined. "It will be just for four minutes, what I need to unpack my luggage", I said. At the end I had to move the motorcycle quickly and an unpack out stuff far from our apartment under a scorching sun.
The days in Como were just what we were looking for: peace, relax, eating, resting… no more. We were so happy for getting those days together. On the other hand, we breath in the air the tension of what would happen the last day. Lore and Constanza are very emotional people and the last goodbye would be really tough.
Although sometime getting bored is a pleasure (at least for me), we were doing plenty of things at any time. Every morning we left the apartment without route, we jumped on the cableway to enjoy the incredible views of the lake, we surrounded it by motorcycle twice ( it takes almost two hours to complete the route), we sent postcards to our relatives, hanging up for dinner… all while we were thinking about all the itinerary that awaits in front of us. This new life has just began.
It was 8 am and we were in the Como train station waiting for the train that would take Lorena's mother back to Torino. Lorena and her mother were sad and thrilled. I thought the best way to move on with this situation would be to involve some sense of humor.
When we were on the platform waiting for the train, we asked a supervisor at what time the train heading to Torino left. He told us around 9,15am on lane number 1. We had about 20 minutes, just 20 endless minutes. As my feelings were in order, I had nothing to concern. 5 minutes later a train arrived to platform 1, it was not Lorena's mother train, but they jumped on it carrying all the luggage in. "What the hell are you doing?" I said to Lorena. It was just when the door alarm started, making impossible to undo the mistake they made. Constanza said Bye with her hands even she did not know where she was heading to.
While I was telling Lorena the mistake we made, the supervisor we talked to before, came to us to confirm that train was not the train she should have to take. Lorena gave Constanza a call, trying to undo the mistake, but it was too late. We were in a hurry and we had to leave Como already.
In a nutshell, that mistake had been the best because we avoided spending 20 minutes waiting for the right train with that uncomfortable situation.
Richard was waiting for us ready to keep riding to: Venice. We rode about 300km, we stopped near the channel village to get a rest and early in the morning we visited the town.
The first thing that surprised me was the road signals, the first one indicates "Venezia 46kms", and after riding 8 kms, the following sign shows "Venezia 54kms". The second one was the great tradition a lot of towns in Italy used to hang out banners of their wedding friends. I usually grab every single banner I find on my way, so probably I have one that it is yours. You can take a look on it clicking on the image.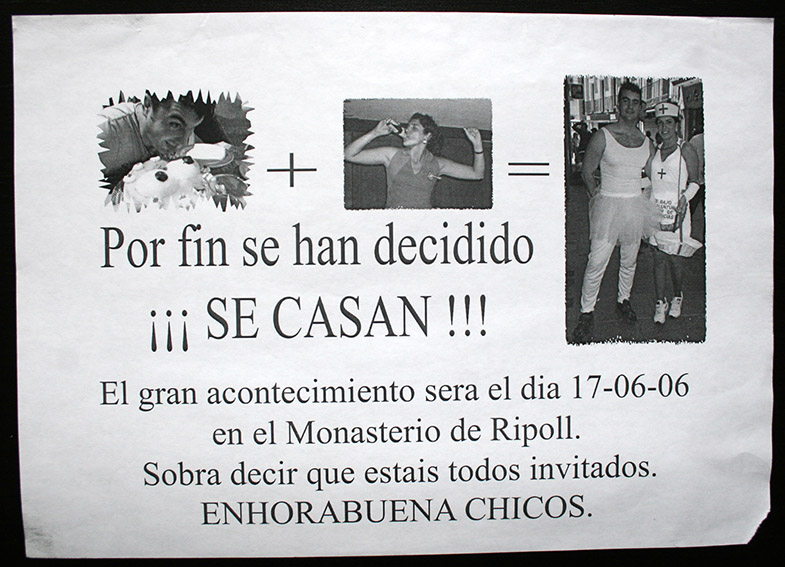 Venezia is awesome. We would love to stay longer, the place really deserves the time. It is expensive though. We crossed Slovakia quickly, we were near Croatia and we felt like to get in there as soon as possible.
In Eslovaquia we got the first misunderstanding, we know there will be more. I must admit I love misunderstandings. We ordered Spanish omelette, scrambled eggs mix with potatoes. "It seems the waiter got it", we thought. Finally he brought two steaks, totally different but it was alright. We were starving enough so we ate that delicious meal.
We woke up early the next morning to ride avoiding the warm weather of Slovakia. There we go, trying to avoid again all the flooding Slovakian butterflies on our way while we were feeling butterflies in our stomach due to emotion of the huge trip is awaiting us, ignoring that quite soon we would have the first accident with the motorcycle. Then I got a question I don't have an answer yet: " When a butterfly falls in love, do they feel human beings in their stomach as well?"
* Dreaming is free. Make them reality, perhaps not. This piece of dream has come true thanks to APIC – Asia Pacific International College, Go Study Australia, foto24and Dynamic Line, thanks to our partners, and most of all thanks to you. And do not forget: If you can dream it, you can do it.
CURIOSITY:
Known faces: Although the humans are able to invent a world in which it is possible to live, fly and dive without oxygen, our brain doesn't shape unknown countenance, rather it sees real people.
DEDICATION:
VL Group – Fundació Terra Vella. Lorena and I lived some years we will never forget. Working with senior people is one of the best experiences in our whole life. You may hear the advice of wise people day after day, and it is really a gift. In fact, this project exists because of the knowledge we got in this company, mainly in the retirement house in Campdevànol, where we have learned that life is only one and one we have to embrace. That is why this post is dedicated to all those people we met. They do know who they are and they are so special for us.