Chapter 10. The heart that goes to Pokhara, will never come back (Nepal and Thailand).
Crossing the border of India and getting into Nepal is like going from the moon to earth. Just getting in Nepal you get so a cool breeze on your face that your body remembers feeling that was beginning to miss.
We went from 38 degrees ambient temperature, to 28. People don´t spend time looking at us. Not forgetting a very important issue: the food. In Nepal we turn to feed a more normal diet.
However, the roads are still difficult, they look like a roller coaster. Although there is no comparison between Indian roads and these, we find trucks, buses and vans that go like crazy. With a brutal slope, we went from the 100 meters to nearly 800 meters over the sea level in a few miles driving up roads that reminds us much to "LaCollada de Toses", very close to my town, Ripoll. And that is how we got to Pokhara, a dream city that in a few minutes we knew we cannot forget in our entire lifetime. Maybe its beauty is amplified by the fact that we were in India and the contrast becomes larger.Such a place is not visited every decade!
Faced with a spectacular lake and under the immense snowy Himalayan mountains lies a quiet and peaceful town in which time moves at a different pace. The people are friendly and hospitable, as we were demonstrated the first day by Suren. He is a Nepali working as a cook in a restaurant in Bilbao and it was 9 years since he left Pokhara, his city. We gladly accept his offer to visit his house, which he shows us as if we knew of a lifetime. In it we were pleasantly surprised to see his father playing cards with his friends in the dining room floor. So they are already happy. They do not need anything more. And they do know it. They have so much experience, they have learned to enjoy the little things. That's what you live for many years. Sometimes you understand the meaning of everything in a few days, and others it takes decades to learn.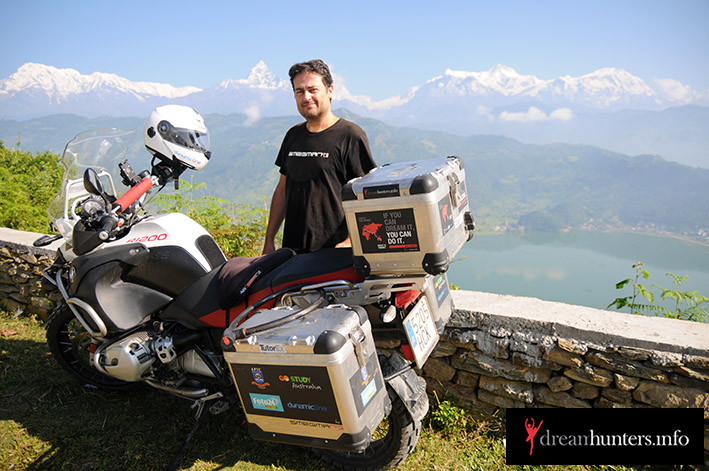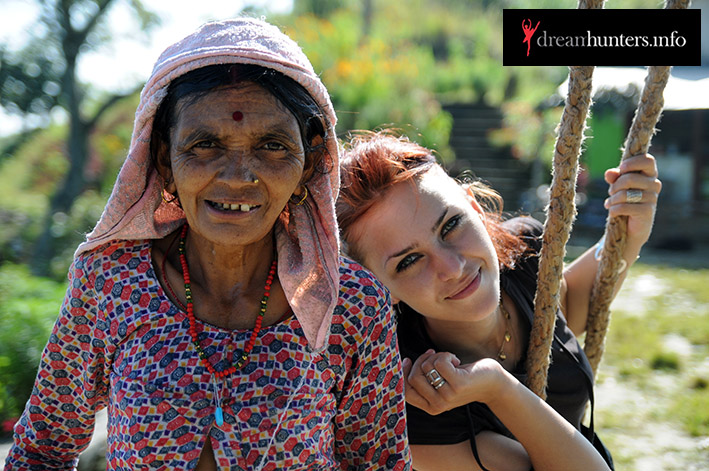 We are surprised that during our visit over 40 people died in a trecking through the Himalayas. There they are accustomed to this type of accidents. It is their routine and they also face the issue of death very different from our way. But for some foreigners who are there for a week is a story that does not go unnoticed.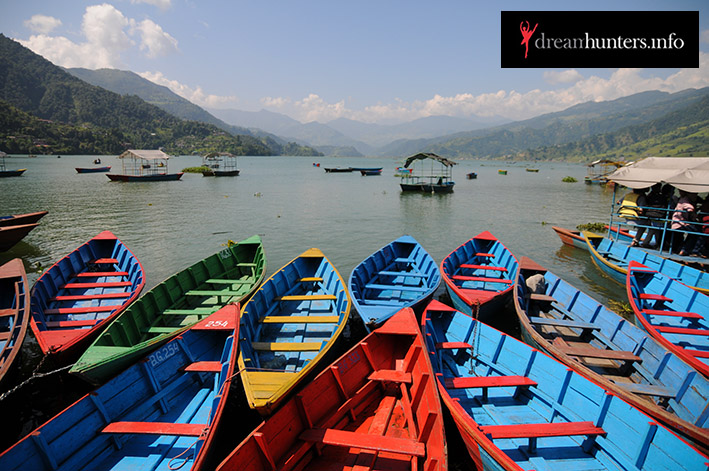 We loved Pokhara more than we expected, that is the reason why we were there longer than normal. Only dreaming I could have imagined a place like that. We got up when we woke up and enjoyed walking as two children eating ice cream in the summer. And as perhaps we may never return to visit it in our life, we absorb it as long as possible. Its electrical supply outages on the morning, lunch at the lake, its people and fresh air trap us like arms that embrace you strong and don't let you go. It's a city that we will never forget.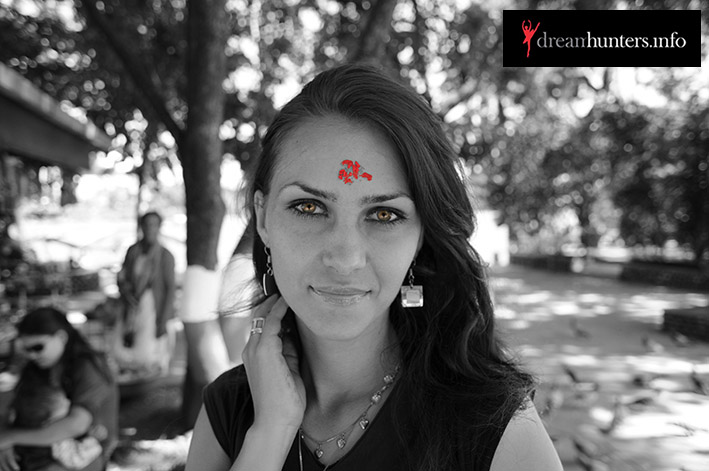 And we were off to Kathmandu, Nepal's capital. We have been warned that it is a city that was going to get us tired up fast. It's not as stressful as anywhere in India, but its roads and streets depleted. When we arrived in town we met Suraj and his wife Saru. They were the ones to help us to send Richard to Bangkok. We have to do so because to get into Myanmar with own vehicle is the same as in China, you need a guide and it is very expensive.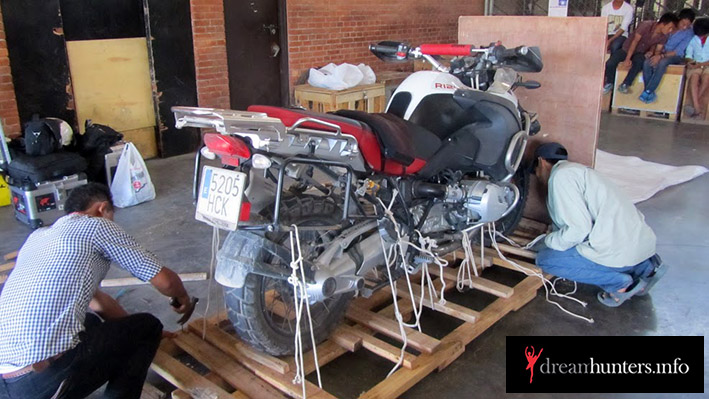 And once the bike was already at the airport and we had the tickets, it was time to enjoy the labyrinthine streets of Kathmandu. Just then, among the crowd I heard someone shouting: "Albert". Someone shouted my name on a street full of people, noise and odors. They were Diana and Javi, better known by the nickname "from the bike", a couple that runs from Madrid to Vietnam and so far had only spoken through e-mails. And they were "Angel on two wheels", a guy who goes from London to Australia also by motorbike, and Lauranne and Javi "Perro Mochilero", who go around the world with his car and his dog Meko. We went to have dinner and it was wonderfull to share so many experiences, hope we can repeat it in the near future.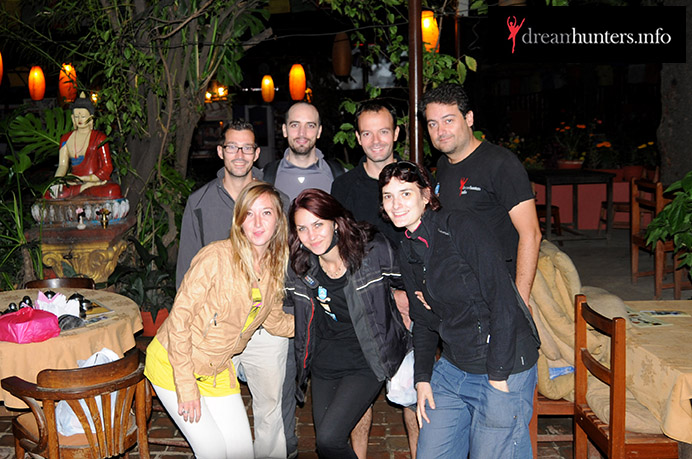 And the next morning we had an appointment, this was scheduled. Our last night in Nepal was spent at Suraj, Saru and his family's home, who invited us to dinner and overnight. They say there are three kinds of people: those who talk about ideas, about news, and speaking of people. And it is preferable to absorb people in the first group and away from the latter we finally accepted the invitation. Undoubtedly, Suraj is a man of projects. He is a man full of ideas, so we could enjoy an entertaining and enriching dinner. Besides, it was the first time in our lives that we ate without cutlery. Using your right hand for rice and other food and stick it in your mouth is an experience one should try once in life.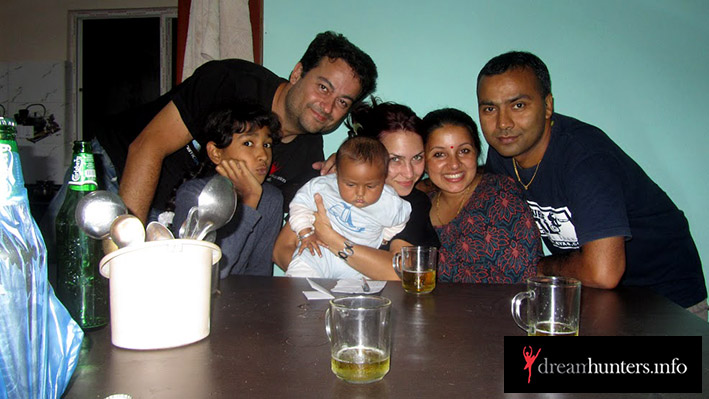 So the day arrived and we had to take the second plane of our trip. And how useful is all that gives us happiness, flew to the country of smiles: Thailand. Our first stop is Bangkok, a city where everything is accelerating. This is my third visit to this city, which means it knows me pretty well. We stayed very close to Khaosan Road, perhaps the most famous street in the backpackers' world. It is said that you can find anything you need in there: a college degree, drugs, a driver's license from any country and so on and so forth.
It is said that every day of your life you receive 12,000 messages, each one with all meanings, 3,000 are advertising. If you look closely around you at this time, you will see the name of the brand of your computer, your watch, your shirt, book your TV, etc. But this figure, in Khaosan Road, multiplies. There are signs everywhere. Strolling along this street listening to songs all mixed throughout, some of which are live, you see a thousand billboards that surround you, and you smell odors of all kinds, as the fried beetles and scorpions.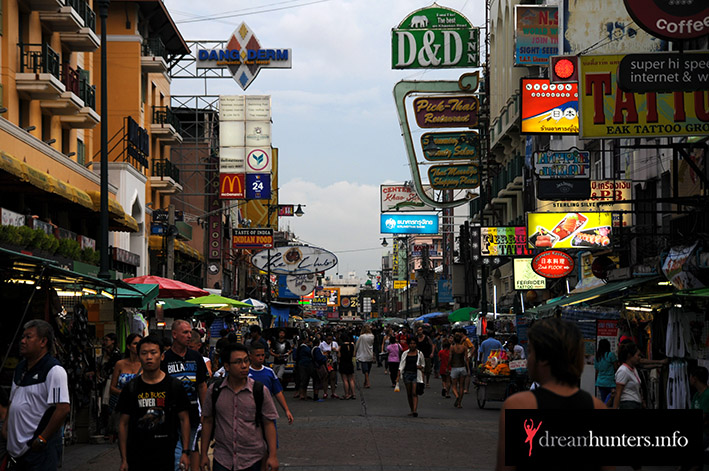 The next day we headed to the airport to pick Richard up. In a few hours we were at the airport exit, but after driving 10 kilometers we received the first bad experience in a Thai road. A police stopped us and said that it is forbidden to go by motorcycle on the highways, so we fined 200 baht (about 5 euros). We said that we came from the airport to pick the motorbike up and we did not know it. After listening, he said that the fine is now 2000 baht (about 50 euros). Smiling, he opened the hand for us to hand him the money.
Even this bad experience cannot obscure the experience you can get with these country's inhabitants. The best thing to do here is opening up and enjoying its people. And the best thing to do is to smile to them, mixing with them in every corner. Thai people in general are very nice people that smile for any reason. Any excuse serves to close her hazel eyes and show the quality of their teeth, either for such basic things as greeting, indicate a direction or simply to say thank you. They seem to have well learned the lesson that says that the shortest distance between two people is a smile.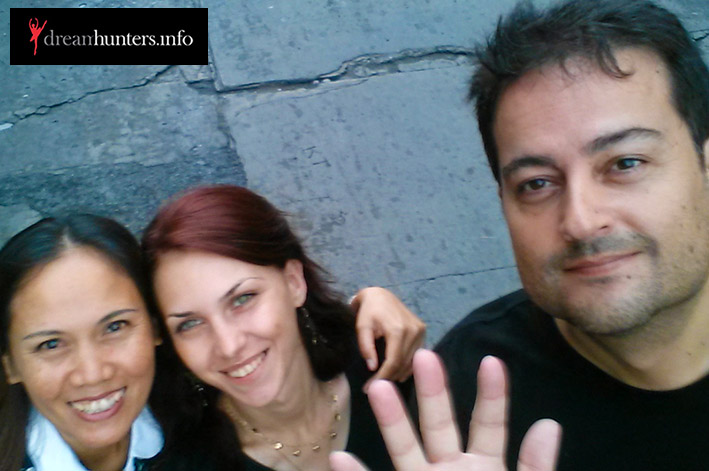 And Yuphaphon Sangkannok, better known under the name of Oil, is not an exception. She is Jordi Meya's wife, a friend of me that lives in Thailand for years and just during these days is in Ripoll, my town. We hang up with her in the evening, walking around and catching up for a beer and, of course, we confirmed the rule that smiling is healthy and contagious. I think it should be mandatory five minutes a day at least. A big hug for you both!
We also used those days in the city to visit the official BMW service where we made the review and overhaul Richard. He deserves it and we spent looking after him all day. We are expecting more kilometers. Good and not so good things, like death, which we will look at the eyes. Never we had had it as close as we would just a few days after we lefte the land of smiles.
* Dreaming is free. Make them reality, perhaps not. This piece of dream has come true thanks to , Go Study Australia,Foto24 and Dynamic Line, thanks to our partners, and most of all thanks to you. And do not forget: If you can dream it, you can do it.
CURIOSITY.
Emotions. The most common emotion experienced in dreams is anxiety. In addition, negative emotions are more common than positive ones.
DEDICATION.
4 years ago I visited Bangkok for the second time. On this occasion, many of the days I enjoyed this city in the company of Anna, Jordi and Oil. This chronicle is just for them. Beside I lived moments in time are gone transformed into memories that I'll hardly be able to forget.
CONTACTS.
Sending the bike from Kathmandu to Bangkok:
Eagle Export.
Mr. Suraj.
(Next to Kathmandu Guest House)
Themel, Kathmandu, Nepal
Tel: +977-01-4701022
Email: eagleandsunnepal@gmail.com, info@eagleexportcargo.com
Web: http://www.eagleexportcargo.com
Hotel Gurkha Haven.
Pardi (Damside) P.O. Box 340.
Pokhara, Nepal.
www.gurkhahaven.com.np