Chapter 11. Let you live has no benefit. Killing yourself is not lost (Cambodia).
Suffering and sorrow are contained feelings that can be easily read in the minimum expression of the people of Cambodia. They can try to hide a smile, but the look reveals. It is not the right time to describe it though. As we go forward in developing chronic recent history of this fascinating country.
Leaving Thailand is not easy for tourists like us. We affirm that this land looks after its tourists so generously. The only pity is that the fact of entering through road, the visa is only for two weeks, which also goes fast. But the rest is impeccable, starting with affordable prices and ending up with the varied tourist attractions (temples, islands, giant statues along the road, etc.).
So on it came the time when we had to leave Thailand for a week and a half or two and visit the kingdom of Cambodia which surprised us tremendously. This is probably the only country in Asia where the cars drive on the right lane and it might be because of the French colonization. As soon as you leave the border strips and you go further into the country you are amazed. And if you still have doubts, when you get to Siem Reap they disappear at once.
It was very hot when we stopped the bike to have a look at Guest House accommodation. It was there where we found out that we were in a country accessible to all kinds of tourists. After asking the question "Please, may we know the price of a room for two people for one night?", The answer was "$ 7". We got scared, but soon we were in a room with air conditioning, two beds and very clean bathroom in the room, without forgetting TV. Especially Albert, who used it to learn the country's culture. And with all this, as we had more than we expected for a price that would not leave us indifferent, we thought it worthwhile to stay more than one day staying there.
The owner surprised us for his generous way of dealing with their gods. Downstairs was a small temple like a toy that could not happen without looking it up. There were gods that lived very well, better than many people in the country. In front there she put about two or three cups of coffee, incense juices, typical food, flowers and other things that surely made them happy.
Next day we dedicate to know the city and it was when we saw that people were a little insistent. Perhaps too much. For example, we sat down for a coffee and suddenly one of them called us offering a "tuc-tuc." They are so insistent because of the country is still "lifting". But following on from Siem Reap, we cannot explain the feeling of joy that we had visiting the famous temples.
The history of these wonders is quite inaccurate. We know that the main temples are: Angkor Thom, Angkor Wat and Ta Pnom Town (temple). The information we have collected online and the inhabitants of Siem Reap explains that in 1432, Angkor Wat was probably abandoned by the decline of the Khmer Empire. However, over the years, some emperors were populated Angkor Wat and retouched each of these works of wealth, until 1594, when the city was abandoned altogether. Over time, the jungle made its contribution natural and almost wiped out all the temples.
It was until the mid-sixteenth century and when they discovered it, amazed as one of its main Western visitors that visited Antonio da Madalena, a Portuguese monk, he said it was an "extraordinary construction is not possible to describe in writing, especially because there is another similar worldwide. It has towers and decoration in all the refinements which the human genius can conceive. "Neither ourselves could describe it better.
We just park the bike in front of the complex located on the first temple when we see some monkeys. Impatient, crossing a bridge we went to the temple, the largest and probably the most attractive. Just put your foot to the temple, a lot of questions come to your head. How was it possible to draw on the walls those flowers and dancers at that time? When they took to carve those drawings? What kind of instruments were used? Being within the temple we will be totally disconnected from the rest of the world that you're used to live.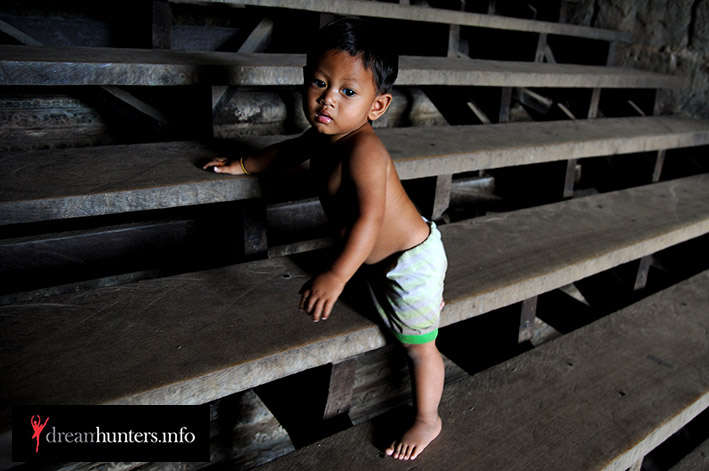 Leaving the temple and getting back to the car park. The monkeys that had greeted when we arrived to the temples came up to stir the bike as much as they could. While we were looking at the damage it was surprising to see the damage the monkeys had produced as the smile of people who told us the facts.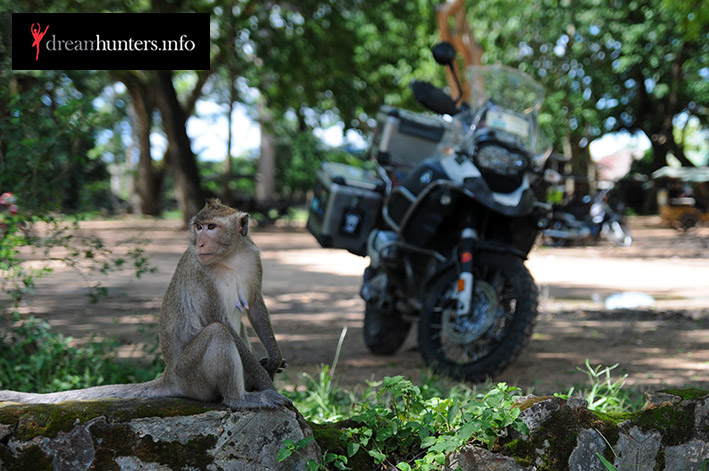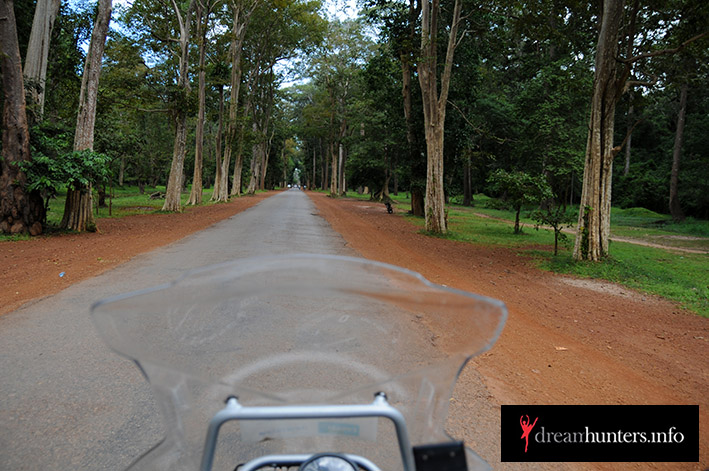 And what could we do in that case? Trying to fix the damages and encourage us that we were in a privileged spot and, indeed, under a sky that I had never so admired. Immensity, it had an intense blue with white clouds that produce a unique contrast.
Throughout the day we were driving around visiting temples and enchanting paths. There were many, but we were never full of visiting them. Each one was special. So that evening we were still wondering about the mysterious culture that lived there centuries ago.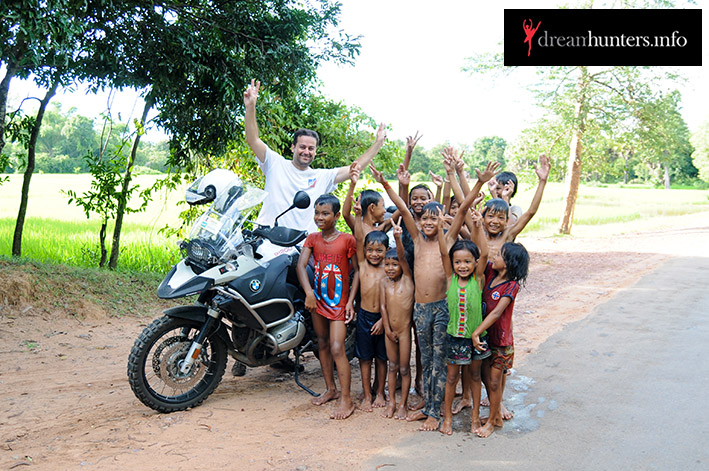 Two days later we were in Phnom Penh, the capital. We got there after a very interesting and intense trip. Leaving Siem Reap we thought that all roads would be similar to what we had known, but we were wrong. Many sections of the road were unpaved kicked up a lot of dust that we had not seen before. It was the journey in which we swallow more dust so far. During the trip we saw how a motorcycle can carry much more than the brain is unable to think of Europe. For example, I would not have had any idea about how to carry three little pigs. Not knowing how to carry mattresses instead, these people did great. They have a solution for everything.
The trip lasted 5 hours, and as I said, not in much time we were not swallowing dust. 20 kilometers before entering Phnom Penh everything changed. The roads were well used, only people carrying bikes and the rest of the landscape began to have "color" again.
Finally, after going round a bit inland from the capital, we found a Guest House with an accessible price and worth condition. It was embarrassed going to the owner to ask details about the room because we face a very dirty laborer that does not stop in all day. Like most Cambodians, this woman was also very friendly.
We started the tour in an unusual attraction for us, "Cambodia Shooting Range." This is a shooting range where they give you as a restaurant menu that shows its range. Throwing 25 shots from a gun to shoot a machine gun or even throwing a grenade for 100 euros.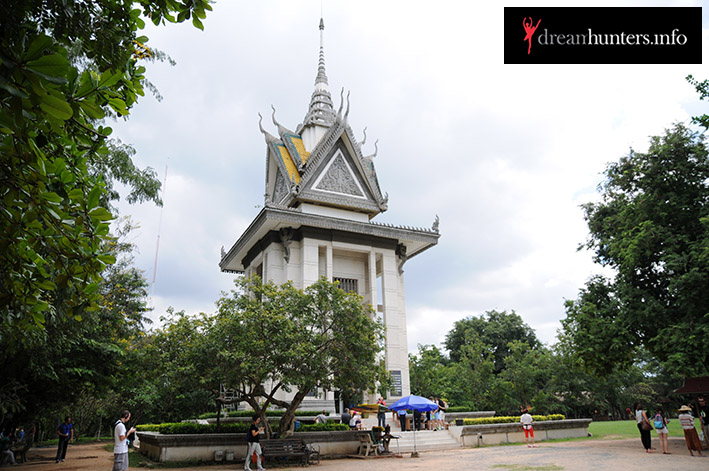 Shortly after we were in one of two places that attracted more attention: The Killing Fields. We decided to go even though we knew the history of this place is really hard and cruel. For more information, we thought it was worth to listen an audio guide. What our ears heard during the stay at the "killing fields' was the most horrific historical event that we ever heard. The story sadly explains that in 1975, the Khamis Rouge, a communist party led by Pol Pot, produced one of the largest massacres in the history torturing people, forcing them to work between 12 and 15 hours a day in the field, and finally killing them brutally. It wanted to create a new company specializing in agriculture. Therefore, in many cases, they had to be tortured in prison to end up being eliminated.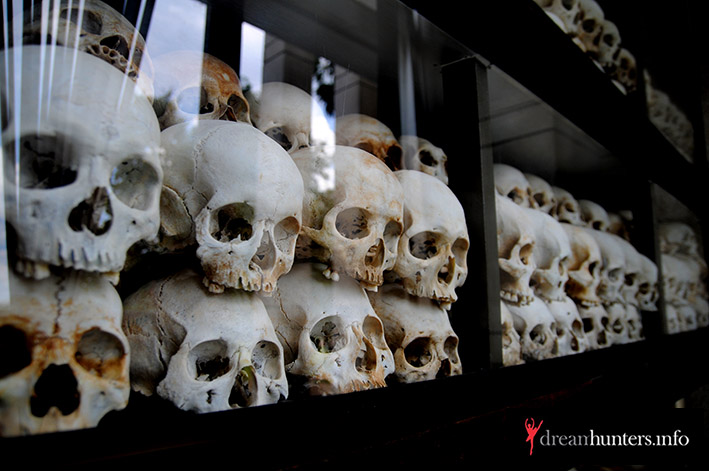 The slogans put Khamis Rouge had goosebumps. Phrases like "let you live is no benefit; kill you is no loss "or" is better kill an innocent by mistake than letting a traitor live doubtful "were part of the bible of this regime. Statistics indicate that in the four years that lasted this damn system, 3 million people were killed under the government of Pol Pot, or what is the same, one over four people were killed.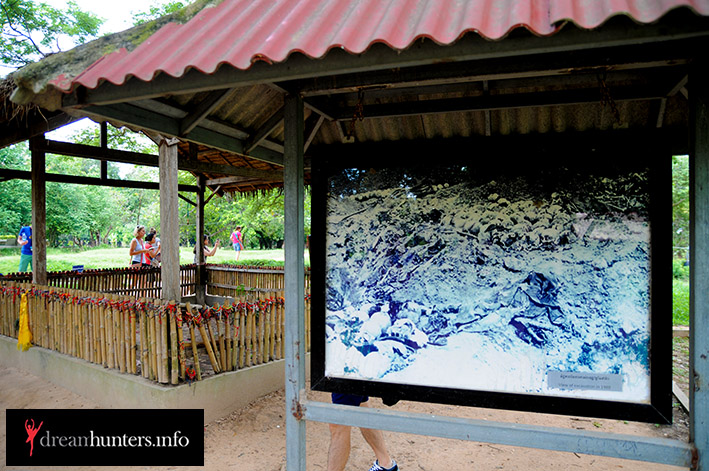 They used different ways to kill: burning them or hit them with iron head and throw them in a hole. Also many women were raped before being killed. Children used to beat them away with his head against a tree. Ironically, this tree is now known as the "Magic Tree".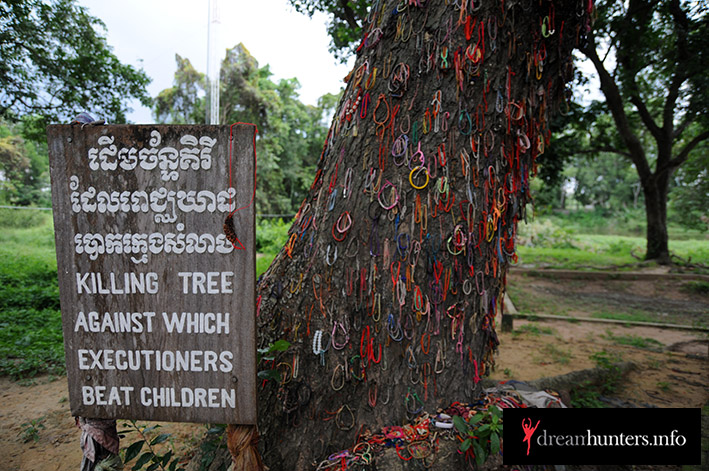 Some people might wonder why the people who died were not fired. The answer is: because bullets cost money. It is sad finishing the visit knowing that Pol Pot died in 1998 at his home without giving any explanation of this genocide occurred in its own country. Perhaps too often, life is not fair.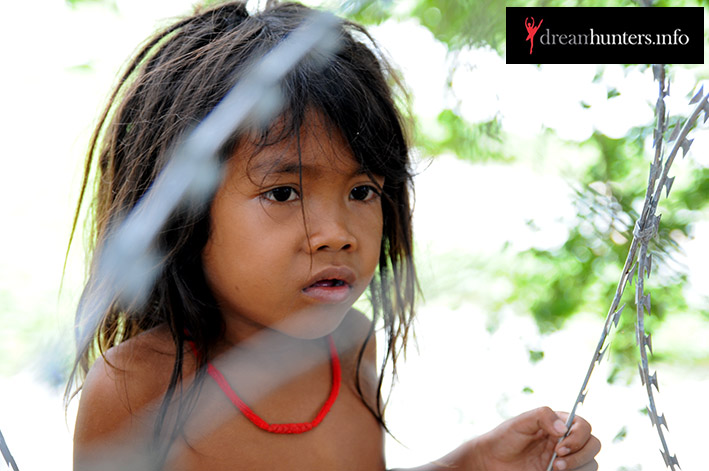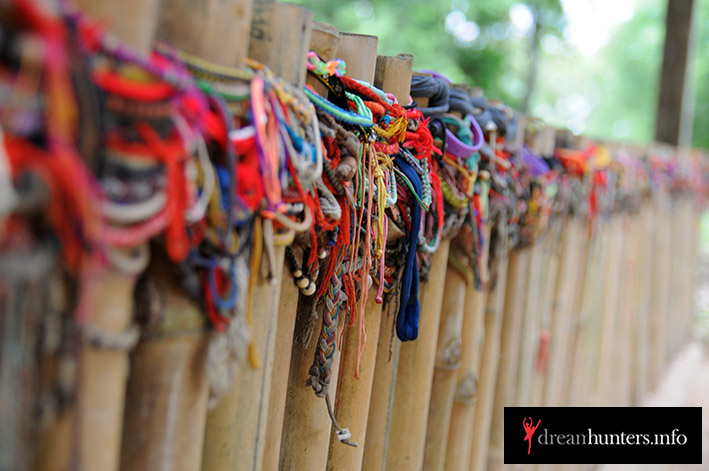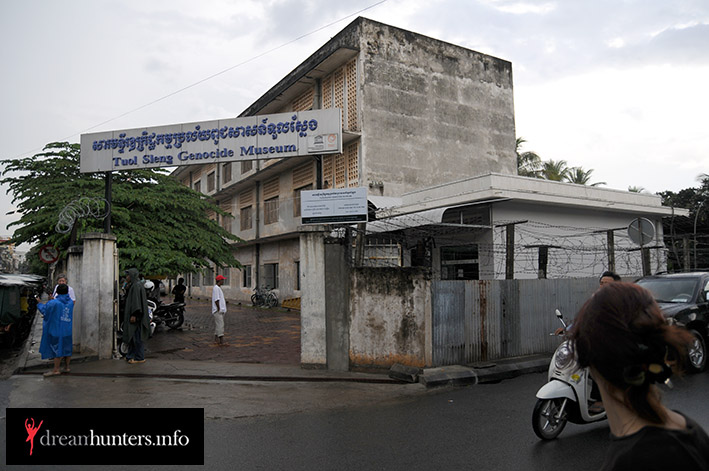 The next stop was a tourist museum. Which? The prison where it was tortured the town's people. This site highlights the ways and tools they used to torture people. Too hard to be said. Distributed on many walls, there were signs indicating the prohibition of smiling inside the museum. Puzzled, Albert was asking himself "Who is the animal that can draw a smile on his face in an environment like this?".
The tour finalised with a visit to the temples modern in downtown. Living day after day with the inevitable stain left by the past is something that only Cambodians know what it means. Losing a family member is not easy, but lose in those conditions even less.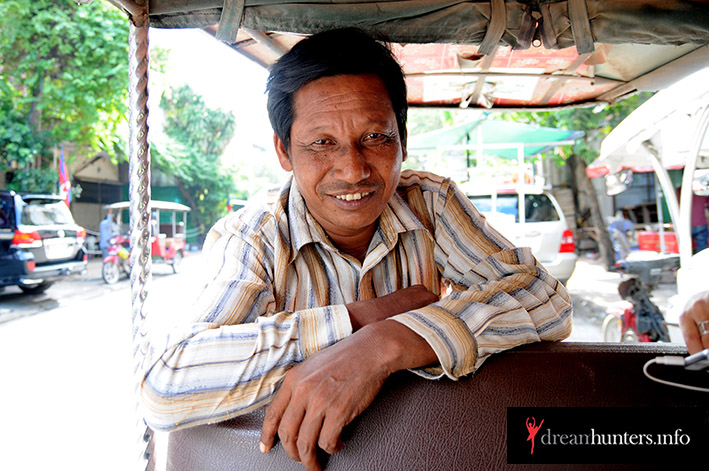 Affected emotionally, the next day we returned to Siem Reap. We knew that it requires to be back there and early in the morning we were in the city of the most famous temples in the world. Before getting there, we had to shower Richard because it really needed it. We decided to stay there some few days because there were still some things to appreciate.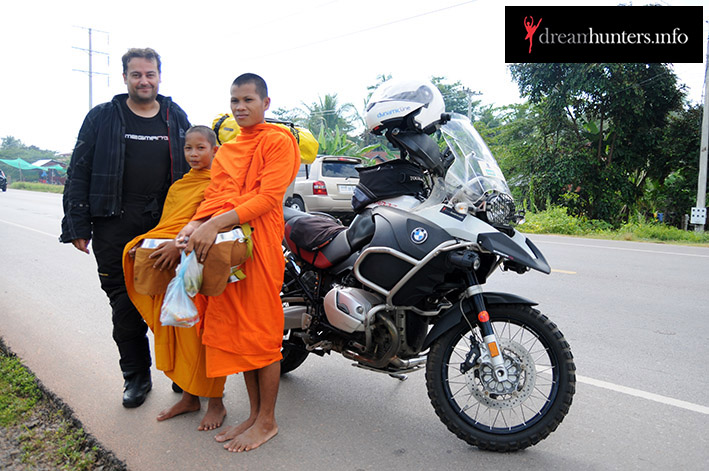 Next day we met Dough, a retired Australian from Melbourne that lives in Cambodia for six years, and we shared a good time while we were eating. We also enjoyed the presence of a friend, Brian, who did not stop making us laugh. Both were very nice and friendly, they gave us advices for when we go to Australia.
Dough also helped us to understand a little part of Cambodian life. "Life here is very cheap." Dough was referring, for example, if a car runs over a pedestrian, it is better the car kills him, because if the victim is still alive, it is cheaper to pay the funeral expenses than the disability. We did not leave Siem Reap without observing people without some of their limbs. This is because throughout the country there are mines and grenades that did not explode and when someone walks too close they blow up.
Beyond a shadow of a doubt Cambodia is the country that most impressed us for their culture and their historical events. And we consider the people of this country very special special just for being able to face every moment of life.
* Dreaming is free. Make them reality, perhaps not. This piece of dream has come true thanks to , Go Study Australia,Foto24 and Dynamic Line, thanks to our partners, and most of all thanks to you. And do not forget: If you can dream it, you can do it.

CURIOSITY.
We spend a third of our lives sleeping.
DEDICATION.
This chronicle is dedicated to Doug and Bryan, to tuc-tuc driver, the owner of the hotel in Phnom Penh, the waiter who served us two drinks with no fingers on one hand and all those who suffered and are still suffering the consequences of Pol Pot's regime.